[RECIPE]: Warm Farro & Kale Salad
In my last recipe blog post I was excited because Fall is here which means soup season!
But I'm also excited about Fall salads this year! Fall can be a tough time for me in the produce department. I miss my strawberries and tomatoes and quite frankly - the thought of eating a big, cold salad when it's cold outside just isn't appealing to me.
I wanted to create a salad that highlighted all of the amazing flavors of Fall, but still brought the warmth you desire in the chilly evenings. 
And that's how this Warm Farro & Kale salad came about! I added chicken for some lean protein, but this could easily make a great meatless side dish (it would still offer 8 grams of protein) OR you could make it a complete meal by adding some roasted delicata squash for a little "meatiness."
If you aren't a big fan of kale salads because you find chewing them to be tough, give this recipe a try - wilting down the kale on the stove top softens the fibers and the finer you chop it, the less work you will have to do in the chewing department!
The goat cheese in this recipe gives a creaminess and because the salad is warm, it melts in your mouth. Enough said! If you don't care for goat cheese, try feta or your favorite cheese.
The pecans and pomegranates add a great crunch to this salad. Just a tablespoon of each of these is the perfect amount to add a little texture.
I LOVE this simple salad dressing. I use equal parts everything to keep it easy and it uses four pantry staples, so I use it to dress many of my salads. The honey is just sweet enough to counteract the acid from the apple cider vinegar and the dijon makes it nice and creamy.
NUTRITION HIGHLIGHTS:
Kale and pomegranate are good sources of Vitamin C which is especially important for boosting our immune system during cold season
Farro is an ancient grain that packs a punch in the fiber department, which can help with gut health, digestion, and blood sugar control
Chicken is a complete, lean protein which helps maintain lean body mass and increases levels of satiety so you feel fuller for longer
Pecans are a heart-healthy fat that are rich in magnesium which can help fight inflammation in the body
Take this recipe to a holiday get together or give it a try for a tasty, nutritious weeknight dinner!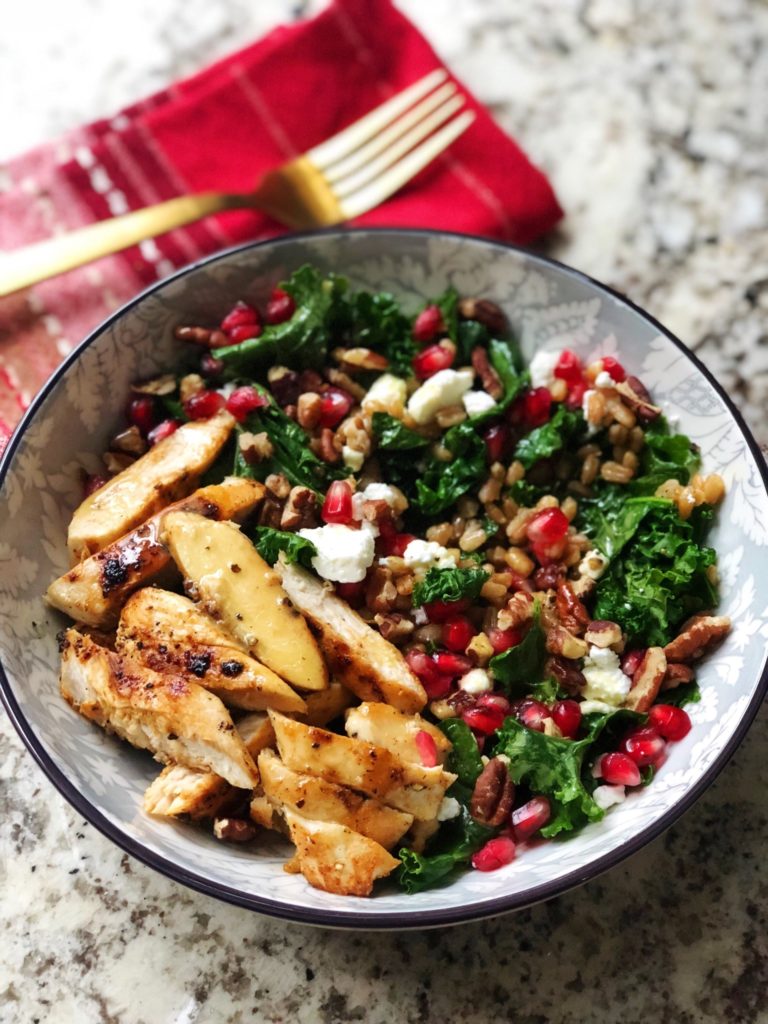 What You'll Need:
1/2 cup farro, dry
1 cup chicken stock
1/2 tablespoon olive oil
4-4 ounce boneless, skinless chicken breast
salt, pepper, onion powder
8 cup chopped kale
1/4 cup goat cheese crumbles
1/4 cup chopped pecans
1/4 cup pomegranate arils
1 tablespoon olive oil
1 tablespoon honey
1 tablespoon dijon mustard
1 tablespoon apple cider vinegar
salt and pepper, to taste
What You'll Do:
In a medium-sized sauce pan, cook farro in chicken stock according to directions on packaging. (Allow around 20-30 minutes for farro to cook).
Season chicken breast with salt, pepper, and onion powder.
In a medium-sized skillet, cook chicken breast over medium heat until cooked through.
Remove chicken from pan and cover with foil to keep warm.
Using the same skillet, add the kale to the stove top.
Allow 5-7 minutes for kale to wilt down, but still hold some texture.
Remove from heat and divide kale among 4 plates.
Slice chicken breast into thin strips and divide between plates.
Top each salad with 1 tablespoon goat cheese, 1 tablespoon pecans, and 1 tablespoon pomegranate.
Whisk together remaining four ingredients and top each salad with 1 tablespoon dressing.
Serve warm and enjoy!
Yield: 4 servings. 1 serving contains 375 calories, 14g Fat, 28g Carbs, 4g Fiber, 4g Sugar, 33g Protein
---
---