[RECIPE]: Thai Chicken Noodle Soup
---
Hello, Fall! I am so happy to see you!
It was nearly 90 degrees here in Arkansas for the first few weeks of October so the cooler weather is welcomed by me!
To kick off the Fall season, I made Thai Chicken Noodle Soup. This is a Cooking Light recipe that I changed up and made my own (you can see the original recipe at the bottom of this post).
Here are some of the star players for this soup, but truthfully they ALL shine!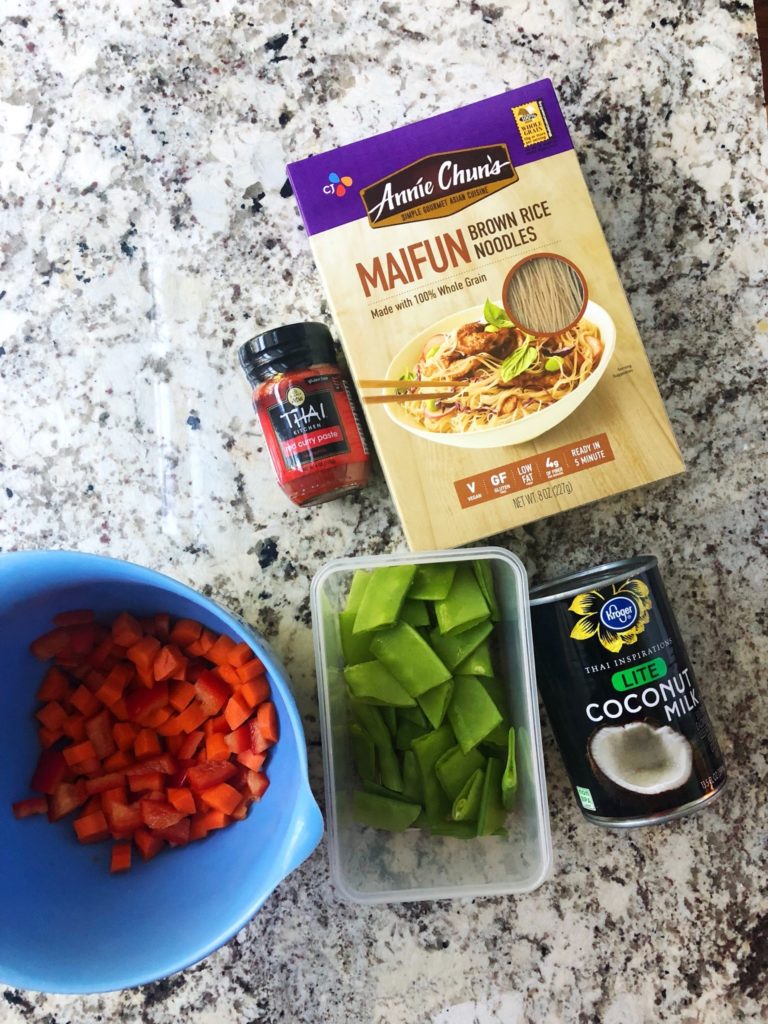 One of the big changes I made for this soup was upping the veggie count by adding carrot and bell pepper. The more veggies, the better.
For the noodles, I've probably used every noodle under the sun. This time I used Maifun brown rice noodles, but I really prefer a thicker noodle for this soup. The original recipe calls for pad thai noodles and I like to use brown rice stick noodles. Truthfully, you can use whatever noodle you like here.
I've used both full fat coconut milk and light coconut milk for this recipe and I really prefer the lighter version in this soup so that the other ingredients aren't overshadowed.
I know not everyone has an Asian section at their grocery store so I've included my Amazon Store link so you can shop my store directly for the products that I use. For this recipe I've included my favorite brown rice noodle, coconut milk, and the BEST red curry paste. You can find these items under the Food Products section. I also have my stock pot that I use for soups under the Cooking Tools section. Check it out!
www.amazon.com/shop/prepandpepllc
For the chicken in this recipe, I cook it in the crockpot. I realize this seems like an extra step and one that takes a long time, but I promise it is worth it. The chicken is so moist and when you add it to the broth, it really is magical! However, if you're pressed for time, cooking the chicken on the stove top or in the oven and dicing it works fine. I've even used a rotisserie chicken before!
This recipe is super tasty, full of good veggies, lean protein, and whole grains! It also makes a lot so hellooooo, leftovers! Give this one a try and let me know if you like it!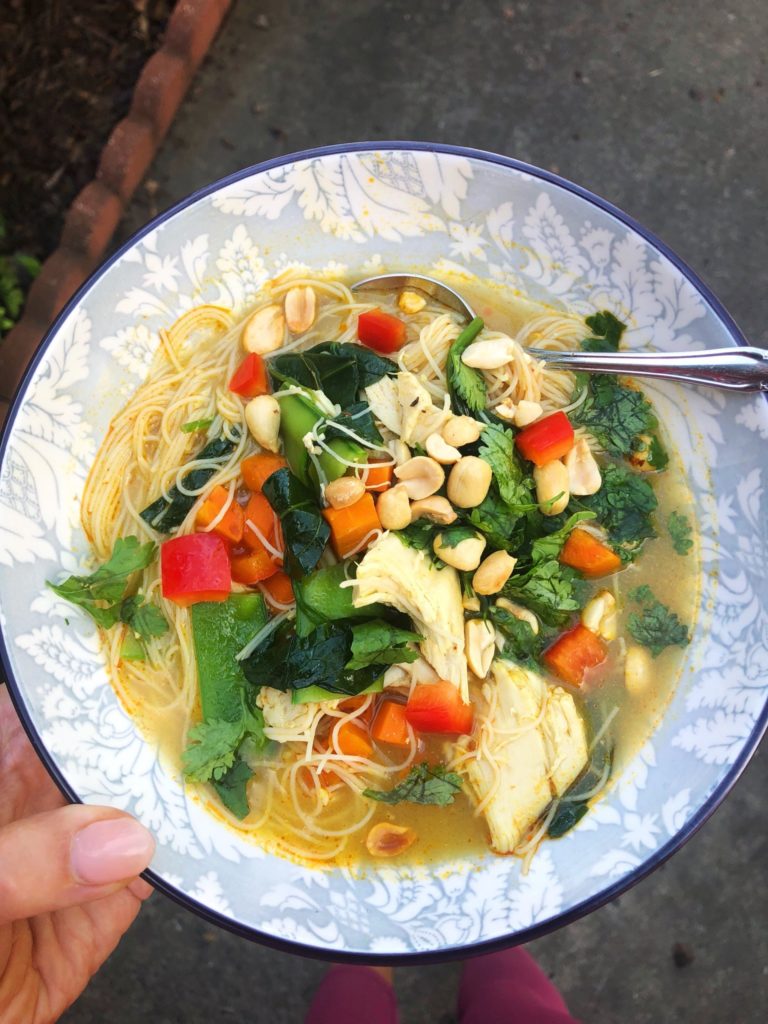 What You'll Need:
 1 pound boneless skinless chicken breast
1 tablespoon oil
3 carrots, peeled and chopped
1 red bell pepper, chopped
2 teaspoons red curry paste
1 1/2 teaspoons curry powder
1/2 teaspoon ground turmeric
1/2 teaspoon ground coriander
6 cups chicken broth
1 can light coconut milk
2 tablespoons soy sauce
1 package brown rice noodles
1/2 pound snow peas, trimmed and cut in half
3 cups spinach
cilantro, crushed red pepper, lime wedges, toasted peanuts (optional toppings)
What You'll Do:
Place chicken breasts in slow cooker on HIGH for 4-6 hours.
Remove from slow cooker, shred with fork, and set side.
Heat oil in large soup pot over medium heat.
Add carrot and bell pepper to pot and cook 5 minutes or until soft.
Add red curry paste and remaining seasonings through coriander to pot and stir to combine.
Add chicken stock, coconut milk, and soy sauce to pot and bring to a boil.
Reduce heat and let simmer for 5 minutes.
Add chicken, noodles, and snow peas to pot and cook for additional 10 minutes.
Add spinach and stir until wilted.
Place soup in bowls and top with desired toppings.
Enjoy!
Original Cooking Light recipe:
https://www.myrecipes.com/recipe/coconut-curry-chicken-soup
---
---