RECIPE: Lightened Up Chicken Pot Pie
---
This is one of my many recipes that started as something totally different (aka unhealthy) and I tweaked it over time to make it healthier and tastier. It was originally found in my grandmother's recipe box that was left to me and the original was FABULOUS! But I like the challenge of lightening up a tasty, southern dish and making it more calorie-friendly.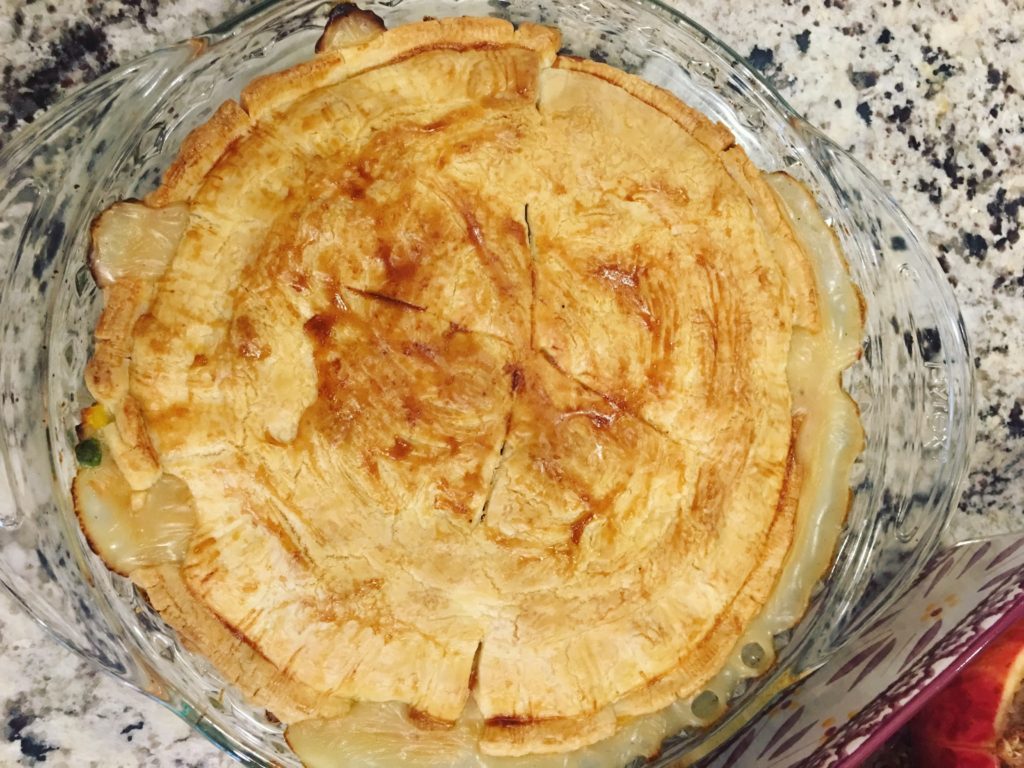 This Lightened Up Chicken Pot Pie is full of lean chicken, TONS of veggies, and just a top crust.
Believe me, you won't miss the bottom crust. This is coming from a carb LOVER.
Instead of the usual heavy, creamy soups for the filling, flour and chicken stock are used to make an equally delicious and light filling that will still warm your body and your heart on a cold winter night.
Frozen pie crust and frozen veggies make this a quick meal that can be thrown together quickly, frozen for later use, or prepared and refrigerated a day in advance. Bonus quickness if you use rotisserie chicken!
This is a favorite in my family and I hope you all enjoy!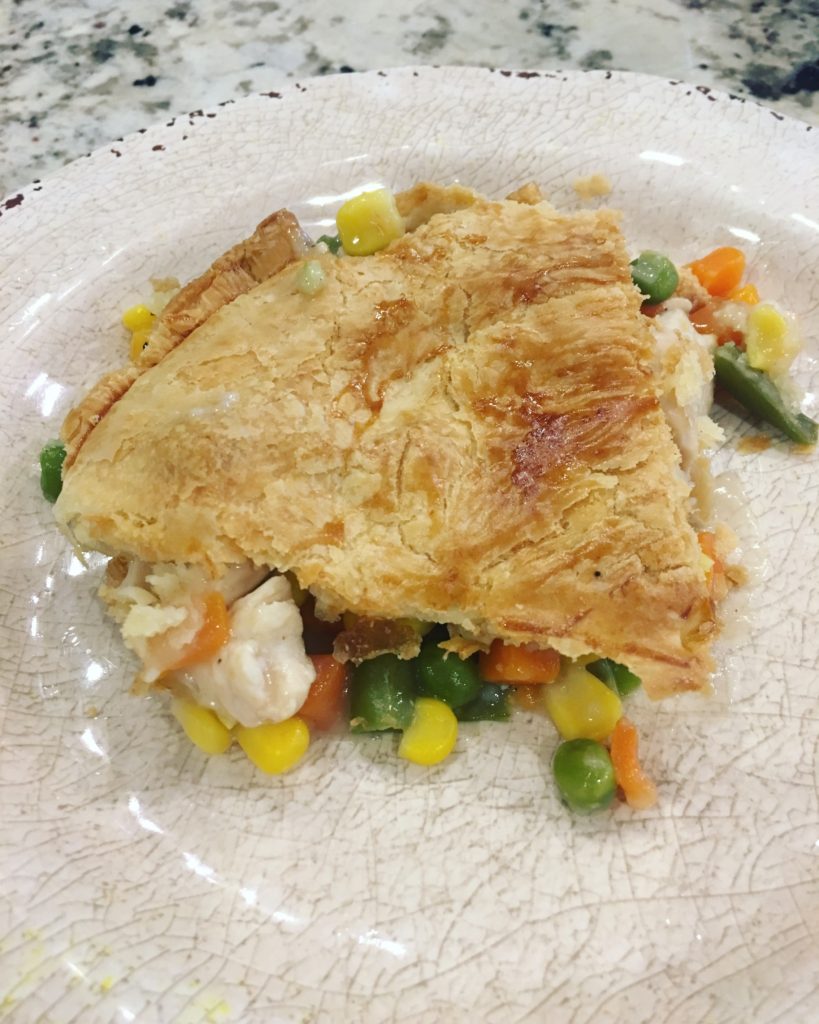 Here's What You Need:
1 pound boneless, skinless chicken breast, cut to bite-size pieces
1 teaspoon salt
1 teaspoon pepper
1 teaspoon olive oil
1 package frozen mixed vegetables, thawed
3 ½ tablespoons flour
2 cups reduced sodium chicken broth
1 frozen pie crust
1 egg white
Here's What You Do:
Preheat oven to 400 degrees and remove pie crust from freezer to thaw.
Season chicken with salt, pepper, and garlic powder. Heat oil in a fry pan over medium heat. Place seasoned chicken in pan and cook all the way through until browned.
Add thawed veggies to pan and combine.
Sprinkle flour over mixture and then combine until chicken and vegetables are coated evenly.
Add chicken broth to pan and stir to combine, breaking up any clumps. Turn heat to high and bring to a boil. Let boil for 1-2 minutes then bring down to a simmer. Let simmer for 10 minutes until liquid thickens up. If still runny after 10 minutes, continue cooking until liquid thickens up.
Pour mixture into pie dish.
Place pie crust on top of mixture and cut slits in crust to vent while cooking. Brush egg white over crust.
Bake in oven for 30 minutes until crust is browned and filling is bubbling.
Serving & Nutrition Information:
Yield: 6 servings. 1/6 of pie contains 223 calories, 6.5g Total Fat, 19g Carbs, 1.5g Fiber, 4g Sugar, 21g Protein
---
---