[RECIPE]: French Bread Pizza
---
With football season quickly approaching (EEEK!), I wanted to share one of my favorite game day recipes - French Bread Pizza.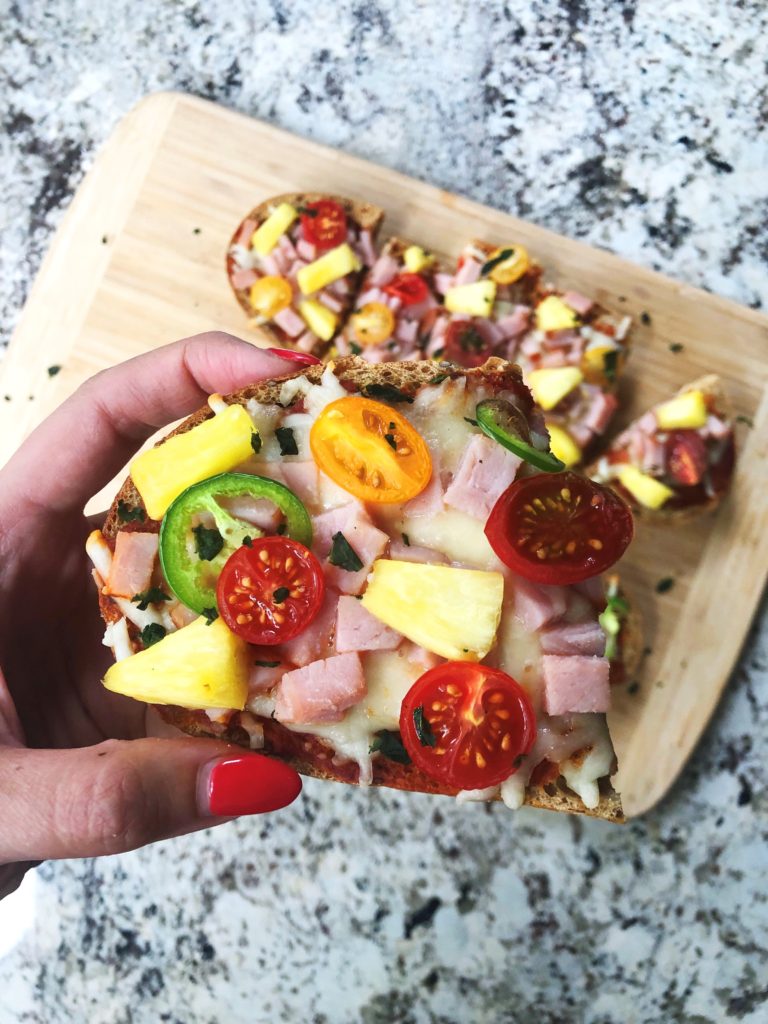 This is a great recipe for a few reasons. For one, it's EASY to make. You can keep most of these convenience items on hands and just grab the fresh elements quickly. There's not much prep work or chopping. Second, it can be made quickly. From start to finish, this meal can be made in less than 30 minutes. Next, it's fairly expensive. And last, you can make a TON, like for a tailgating crowd.
This low maintenance recipe really does feed a lot of people, but doesn't require you to spend a ton of time in the kitchen (you know, so you can watch more football!) It combines convenience items and fresh elements to give a new twist on pizza.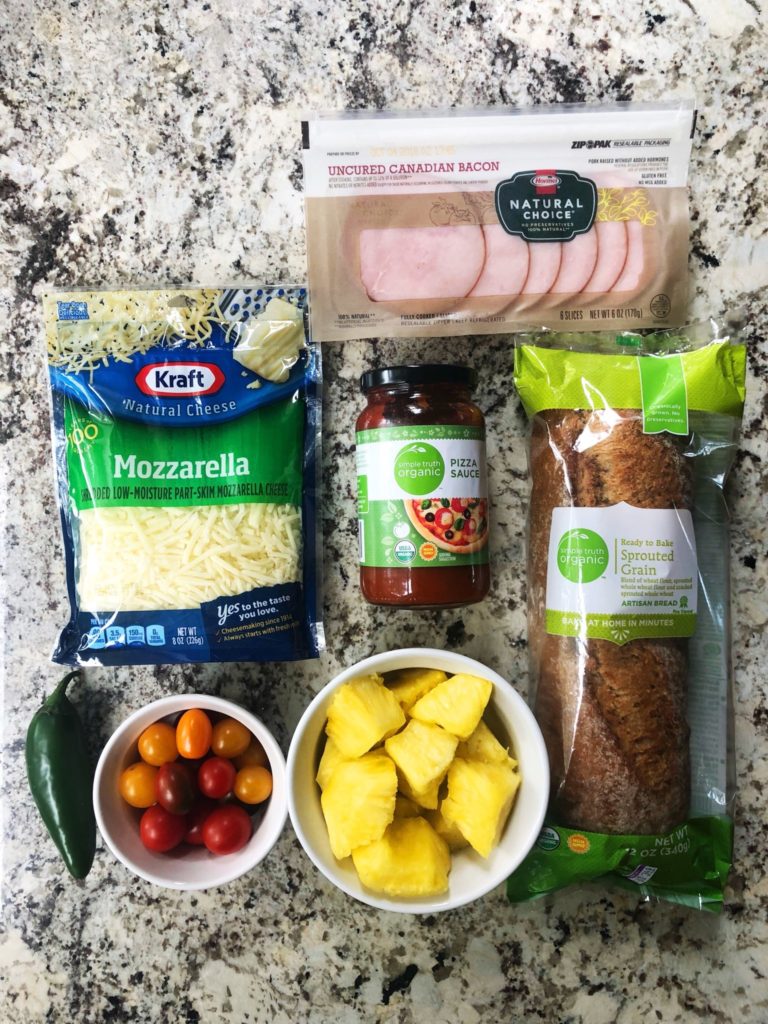 Convenience Items:
-jarred pizza sauce
-premade bakery bread
Fresh Elements:
-pineapple
-tomato
-jalapeno
Of course, the beauty of pizza is that you can top it however you please. I went for a Hawaiian style last time I made it, but you can use whatever you have on hand or like (I see you pineapple-on-pizza-haters!) I left the jalapeno off of my boy's pizza and served this for dinner with a spinach salad to up the fresh element even more.
I do suggest pulling out some of the bread after you cut it to bring down the heaviness of this meal. I save the middle to make bread crumbs or homemade croutons!
Check out this recipe below and let me what you think!
What You'll Need:
1 loaf Sprouted Grain or Whole Wheat bread from bakery
1 drizzle olive oil
1/2 cup jarred pizza sauce
1 cup shredded mozzarella cheese
6 ounces Canadian bacon, chopped
1/2 cup pineapple, chopped
1 cup cherry tomatoes, halved
1/2 small jalapeno, cut into thin rings
What You'll Do:
Preheat oven to 400 degrees F.
Line a baking sheet with foil.
Cut loaf in half and remove some of inside bread. (Save for bread crumbs by storing in ziploc bag in fridge).
Drizzle olive oil on both halves and place in oven for 5-6 minutes.
Remove from oven and on each half add 1/4 cup pizza sauce, 1/2 cup cheese, 3 ounces candadian bacon, 1/4 cup pineaple, 1/2 cup cherry tomato, and a few slices jalapeno (optional).
Place back in oven for 10-15 minutes or until cheese is melted and bread is crisp.
Cut each half into 1/4ths and enjoy!
Yield: 8 servings. 1 slice contains 221 calories, 6g Fat, 30g Carbs, 3g Fiber, 5g Sugar, 12g Protein
**Nutrition Facts do not take into account bread that was removed from inside loaf**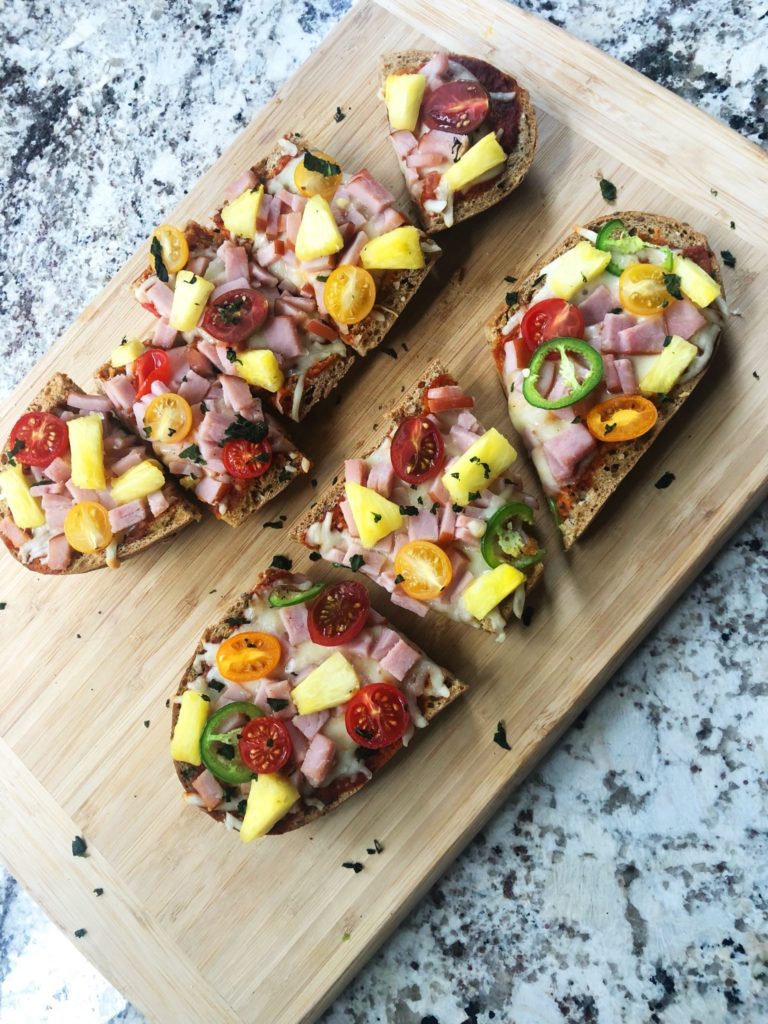 ---
---