[RECIPE]: Curry Chicken Salad
---
This week I prepped one of my favorite recipes: Curry Chicken Salad.
I'm in the final weeks of my 5-week Organic and Biochem lab and have to pack my lunches. I don't want to worry about running to a microwave so I'm always opting for a no-heat lunch outside of a typical sandwich.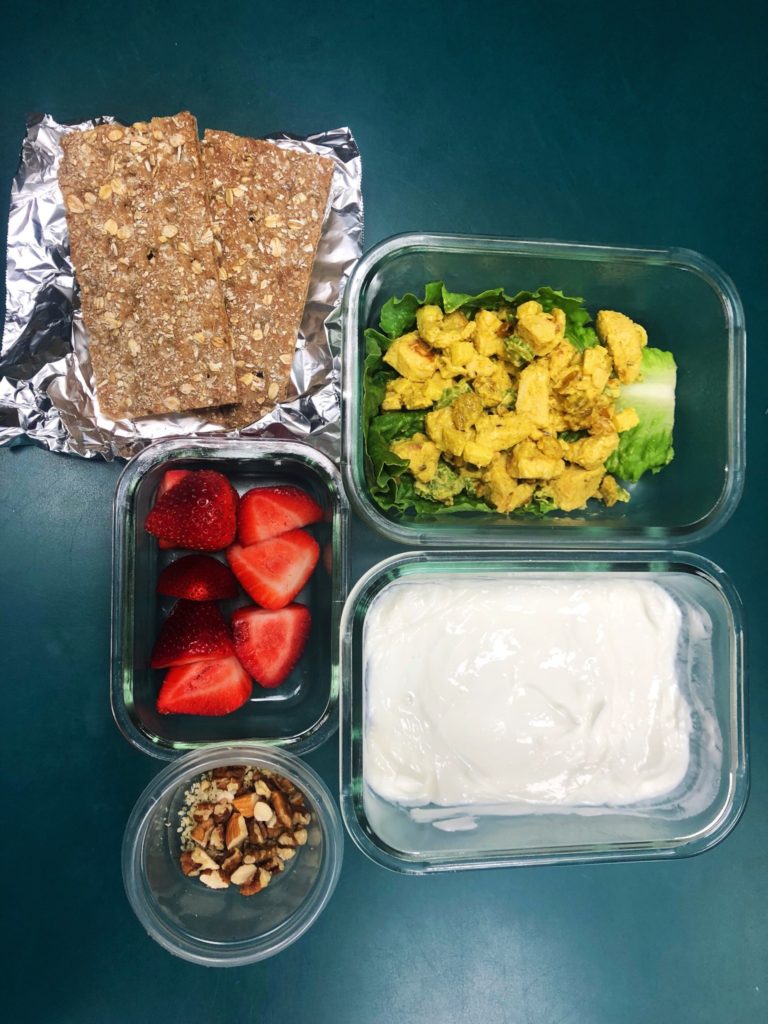 If you like regular chicken salad, give this tasty variation a try! I love it wrapped in lettuce cups or over whole wheat crackers. Truthfully though, whenever I make it, my 4 year old and I stand over the bowl eating spoonfuls of it because it's just THAT good!
Golden raisins are a bit more expensive than your regular raisins, but SO worth it and the peanuts, celery, and apple gives this salad a nice crunch. You could sub your favorite nut or seed in this recipe if you aren't a peanut fan (I sometimes make it with cashews but prefer peanuts when I'm prepping a batch for meal prep).
I use nonfat plain greek yogurt to cut the mayo amount in half. This lowers the fat content and calories, ups the protein, and adds a little boost of probiotics (make sure you get yogurt that contains live and active cultures to get this benefit). This still allows for the flavor of the mayo, but makes it a little bit better off nutritionally!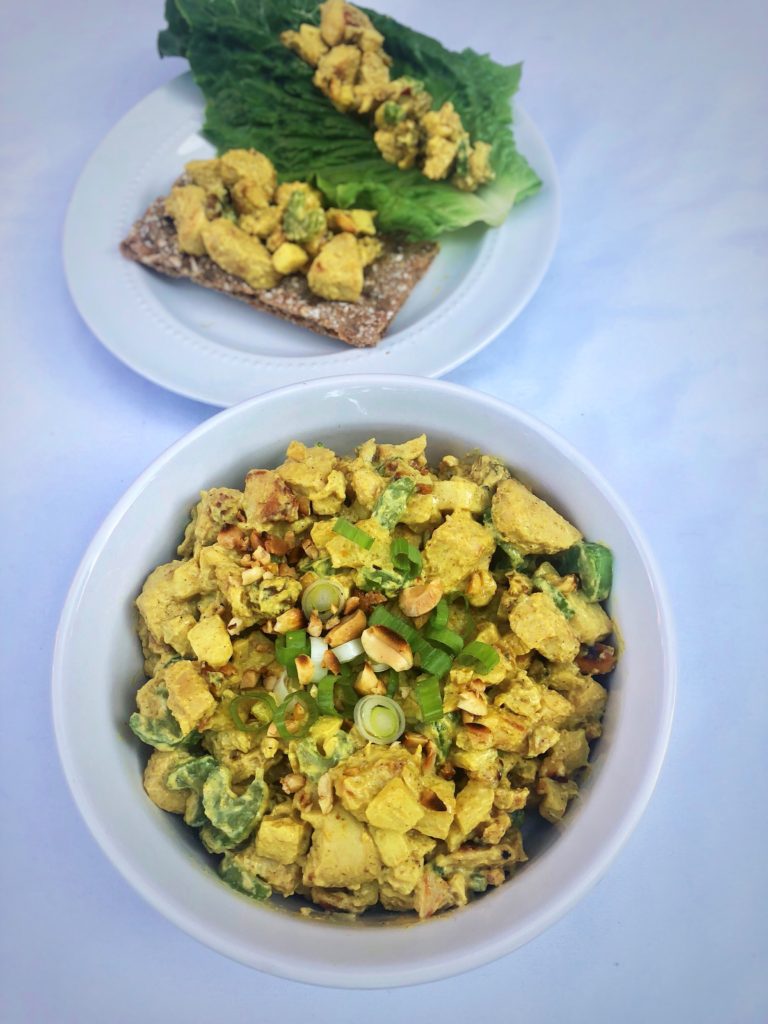 Check out the recipe below and let me know if you make it!
What You'll Need:
1 teaspoon olive oil
1 pound boneless, skinless chicken breast, cut to bite-size pieces
salt, pepper, garlic powder
1/4 cup nonfat plain greek yogurt
1/4 cup olive oil mayonnaise
1 tablespoon lemon juice
2 teaspoons curry powder
2 tablespoons golden raisins
2 stalks celery, chopped
1/2 large apple, chopped
2 tablespoons toasted peanuts
What You'll Do:
Heat oil in a skillet over medium heat.
Season chicken with salt, pepper, and garlic powder.
Add chicken to pan and cook until chicken is fully cooked and no longer pink.
Remove from heat and let chicken cool.
In a large mixing bowl combine yogurt, mayonnaise, lemon juice, and curry powder.
Add raisins, celery, apple, and peanuts to bowl and combine.
Fold in cooled chicken and combine.
Enjoy over salad, lettuce cups, with crackers, or on bread!
Yield: 4 servings. 3/4 cup contains 222 calories, 8g Fat, 9g Carbs, 1g Fiber, 5g Sugar, 28g Protein
---
---