Product Review: Google Keep (App)
---
Life is insane. And by insane, I mean insanely busy.
Lately it feels like for every item I check off my to-do list, another two appear.
Time management is an area of my life that I am CONSTANTLY trying to improve in. I tend to become overwhelmed quite easily by my long list of to-dos, not to mention all of my hopes, wishes, and dreams that I am always trying to make reality.
I have several different tools in my tool belt when it comes to managing my time, but one in particular stands out.
The 'Google Keep' app.
I tend to be a fan of putting things in writing because it helps hold me accountable. But the downside is that I'm typically not going to carry my sticky note around with me everywhere I go.
My phone, however, is always around (for better or worse). Having my to-do list on my phone is a game-changer.
I'e used several different 'Note' apps and they were "alright," but never held my attention for very long.
Google Keep is totally different. In fact, it recently received the honor of moving to my first page of apps because it just gets SO much use!
So what does it do?
It allows you to keep multiple notes in one place in the form of lists, notes, photos, or audio.
The notes can be labeled and color coded and yes, they do look pretty!
You can set reminders about a note for whenever you please. Need to meet a deadline by 6 pm on Sunday? The app will tell you when it's time!
It even allows you to set a location. If you need to be reminded of something at a certain location, like the items you need from the grocery store, the app will alert you when you arrive to that location. GENIUS.
Voice recording. This is a big one for me. With as much driving as I do lately, I may think of something randomly while driving. Being the good, safe driver that I am, I can avoid texting while driving by talking into the app and letting it transcribe for me. Safety first!
It can be used across multiple devices, like a Chromebook.
I love this app. It has been a total game changer for me in how I manage my productivity.
The image below is a screen shot of my app from around finals last semester.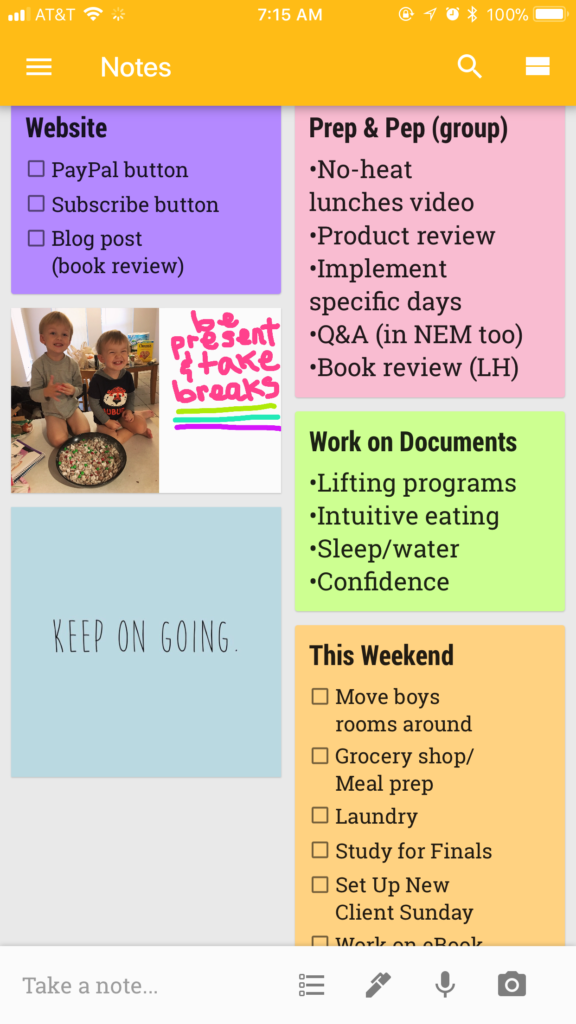 As you can see, I had multiple lists going. One for my website, my facebook group, and tasks I needed to complete for that weekend. As I thought about things throughout the day, I would just add it to the appropriate list.
I also love that it lets you add pictures, like little quotes or a picture of my boys with drawn on text to remind me to take breaks. Super important these days.
I also like that it allows you to 'Pin' important lists or items to the top so you see them first. Talk about in depth prioritizing!!
My list below is more recent and I've added in a new tool for my lists.
My Top 3
Even with sorted out lists it's easy for me to jump around from task to task. Something I struggle with giving a task that is low priority too much of my energy and then not having enough left for the important tasks. I recently started a note that is my daily top 3. This came as inspiration from my planner and it has be extremely helpful.
Every day I have many things I want to accomplish, but instead of focusing on EVERYTHING, I just focus on the top 3. These are the three things that are the MOST important to me and take priority over everything else.
Even if I accomplish nothing else on my long list, if I can just knock off my top 3, I will know I had a successful, productive day. If I finish the top 3 and still have energy/time, I'm good to move onto my other 'daily list' tasks.
My top 3 changes every day. Sometimes it's all focused on school and making sure I get a workout in. Sometimes it's focused on spending quality time with my family if we had a busy few days before. Sometimes it's something that really needs done and has taken a backseat lately, like mopping the floors. Sometimes it's little things and sometimes it's big. Either way, having direction for my day has relieved a great deal of stress and increased my productivity.
Having an app that allows me to have multiple running lists, like Google Keep, has seriously been a lifesaver!
I've never experienced any technical difficulties and best of all, it's free!
If you struggle with time management and prioritizing your to-do list, give this app a try!
Look for 'Google Keep' in your app store!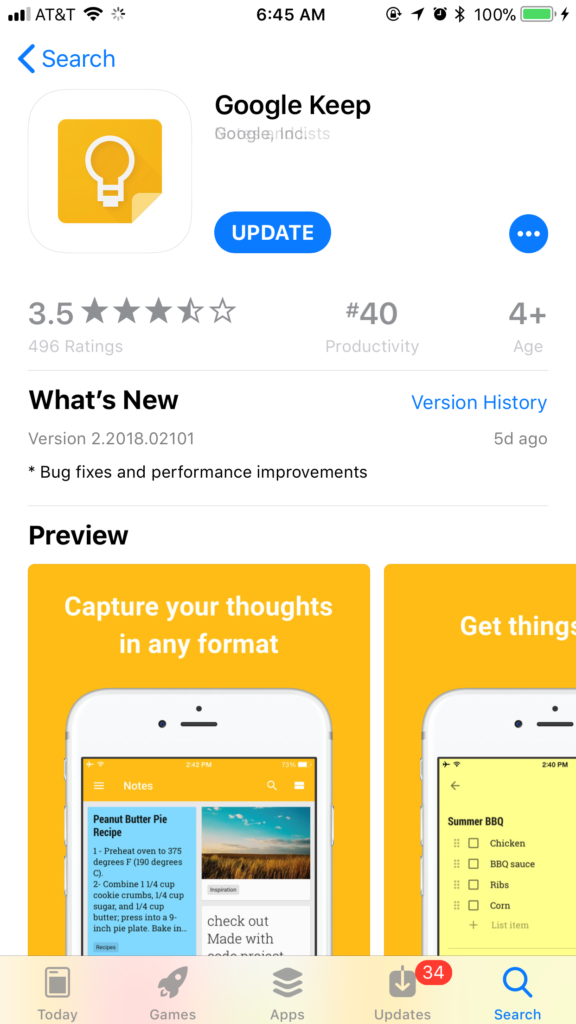 ---
---