Crock Pot Chicken 6-Ways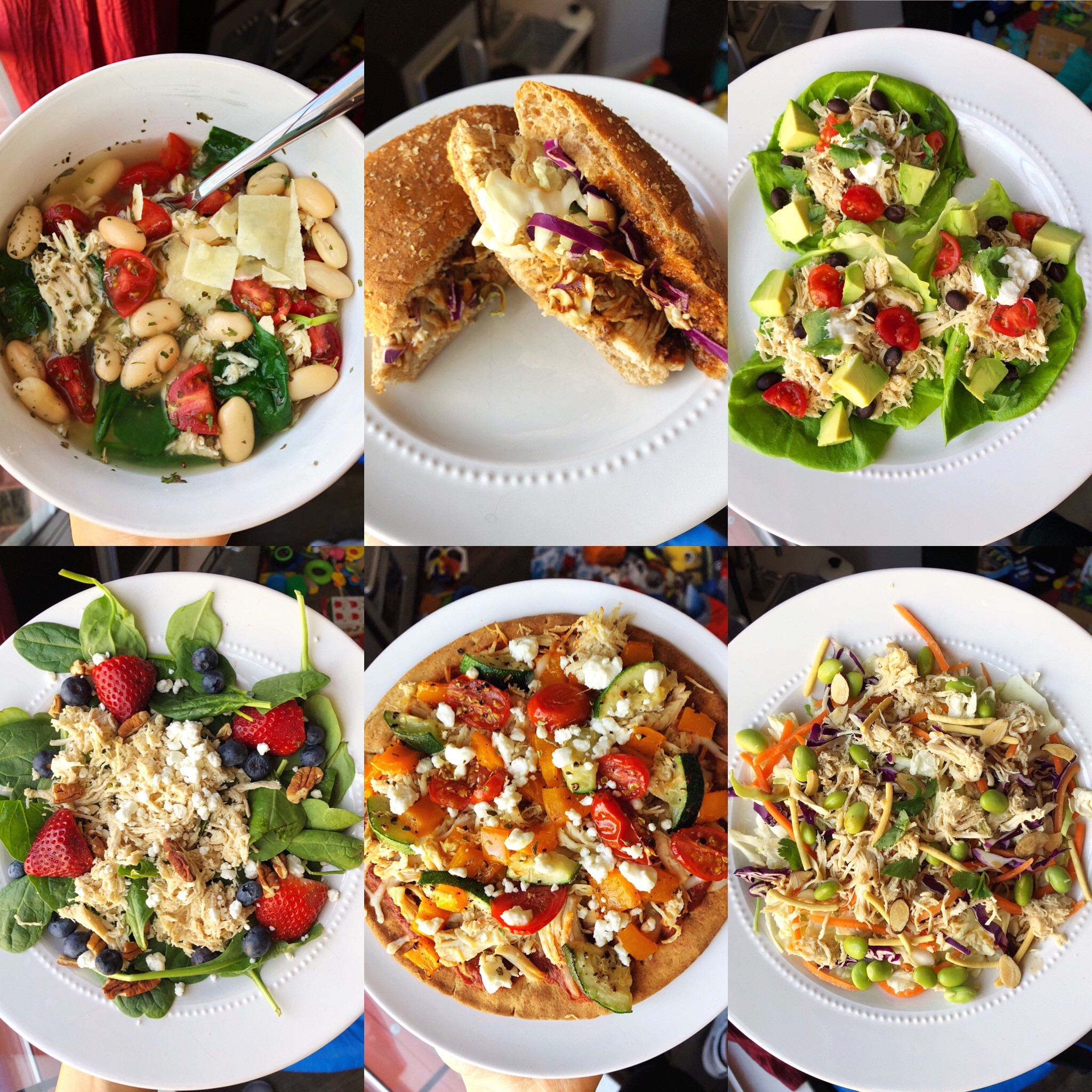 ---
Cook chicken ONCE and get SIX meals?!
Yes indeed. I promise it's not too good to be true!
I hear it often and I also fully understand it - cooking healthy meals can be time consuming.
Convenience foods require little to nothing - a preheat of the oven, removing the item from the box, a few spins of the microwave and BAM! Dinner is served.
A home-cooked meal requires a thought out plan and grocery list, washing and cutting of the vegetables, preparing the protein and grain, assembling and cooking - you get the point. It takes longer!
But there are ways to cut down on time! If you follow me on my Facebook page (Prep & Pep, LLC), you've seen my posts this week sharing my meal prep 101 tips. Most of these have included ways to eat healthy and save time doing it.
One of my favorite way to save time- batch cooking protein.
Hands down, this makes a WORLD of difference for someone who is pressed for time. I used this trick just this week. I won't even get started on my (growing) laundry list of obligations this semester, but I will say it's A LOT. And I find myself using those tips and tricks I have shared with others often.
This week I batch cooked chicken in the crock pot and made 6 meals total - 3 lunches and 3 dinners (although these could all be used for lunches OR dinners!) And the best part is I only cooked the chicken ONCE!
On Sunday I threw 3 pounds of chicken into the crock pot, seasoned it with a little salt, pepper, garlic powder, and onion powder. Turned it on low and let it slow cook all day while we took a trip to the zoo.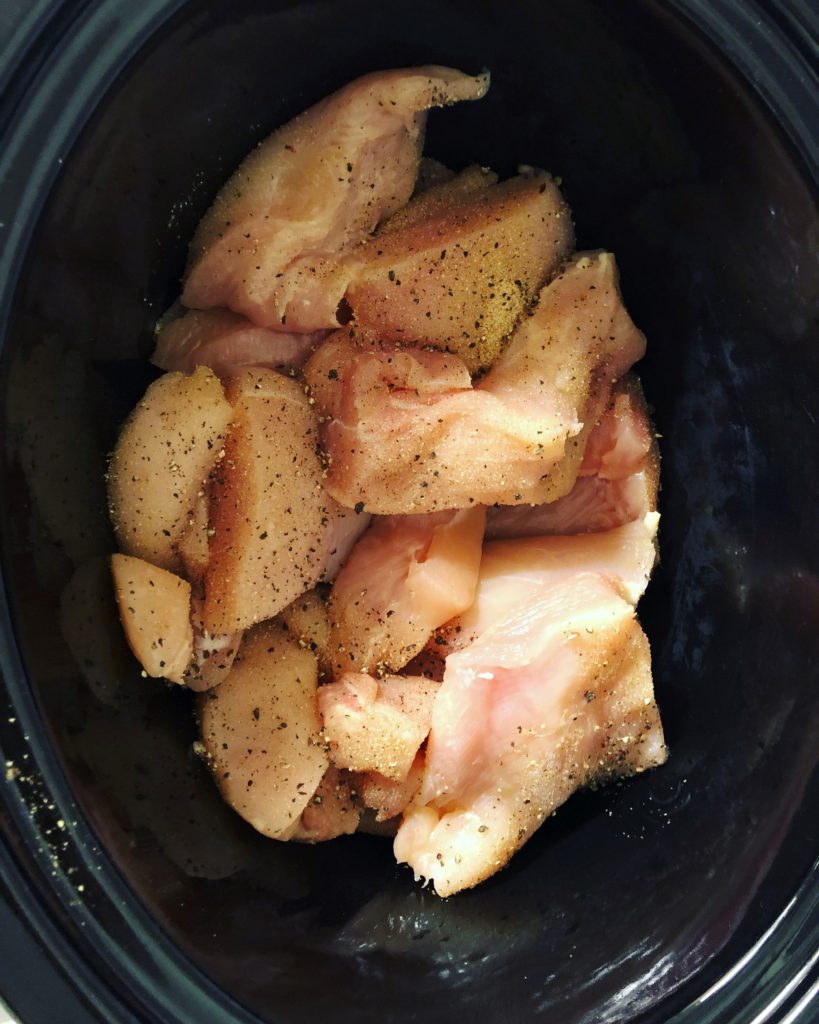 When we got home it was finished so I pulled it out, put it on a plate, shred it with two forks, and placed it into tupperware containers  to put in the fridge.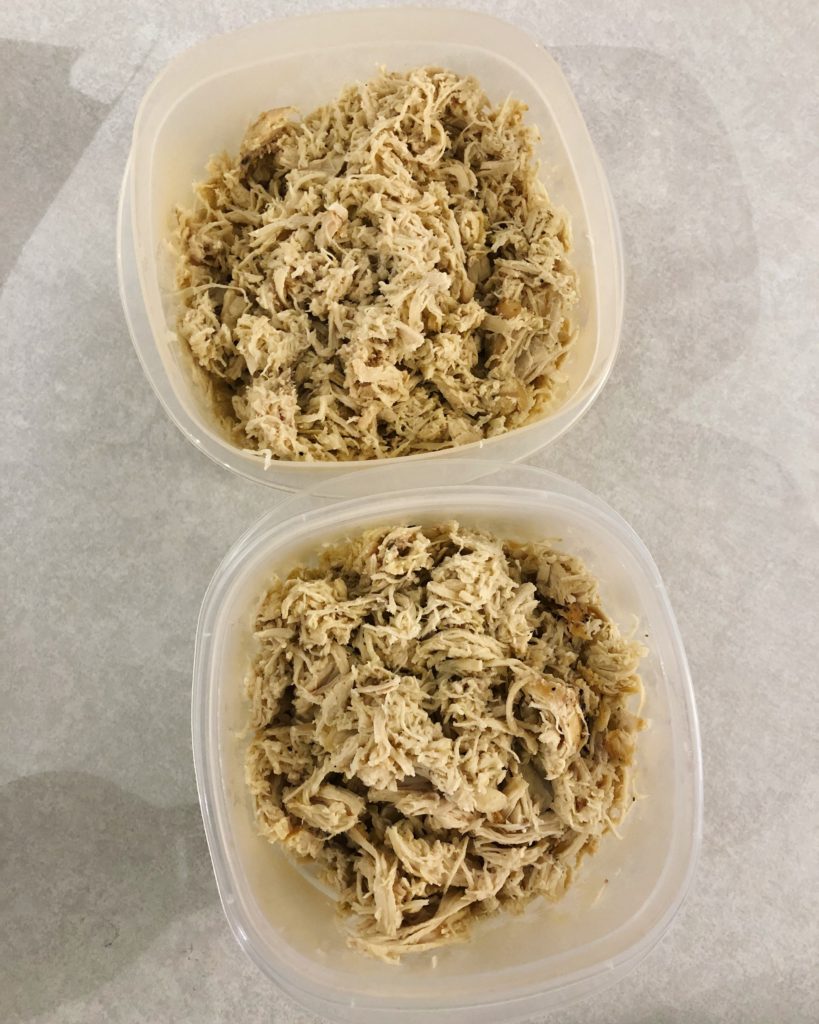 Y'all. I can't even tell you how easy this made my life this week. I made six TOTALLY different meals using the same protein and sometimes the same veggies as well. Life-SAVER!
Check out what I made below!
*Note: lunches are in single-servings, dinners are four serving sizes*
DINNERS-
White Bean, Spinach, and Chicken Soup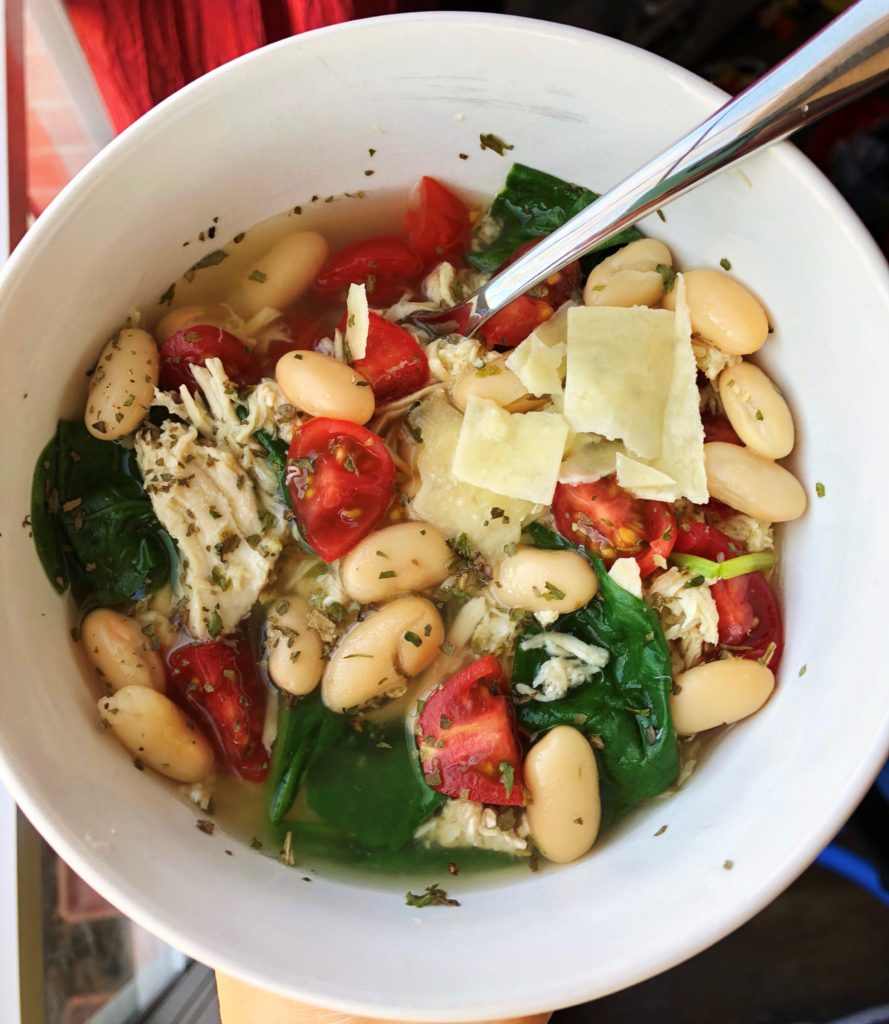 -4 cups chicken broth
-1 can cannelini beans, drained and rinsed
-1 cup cherry tomatoes, cut into quarters
-2 cups spinach
-2 cups cooked chicken
-1 tsp dried oregano, 1 tsp dried basil
In a large soup pot I boiled 4 cups of chicken stock and brought it down to a simmer. I added the beans, tomatoes, and herbs and let it cook for 10 minutes over medium-low heat. I then added the chicken and spinach and let it cook another 5 minutes. Turned to low and served in bowls topped with parmesan cheese shavings. Served with multigrain french bread.
BBQ Chicken Sandwiches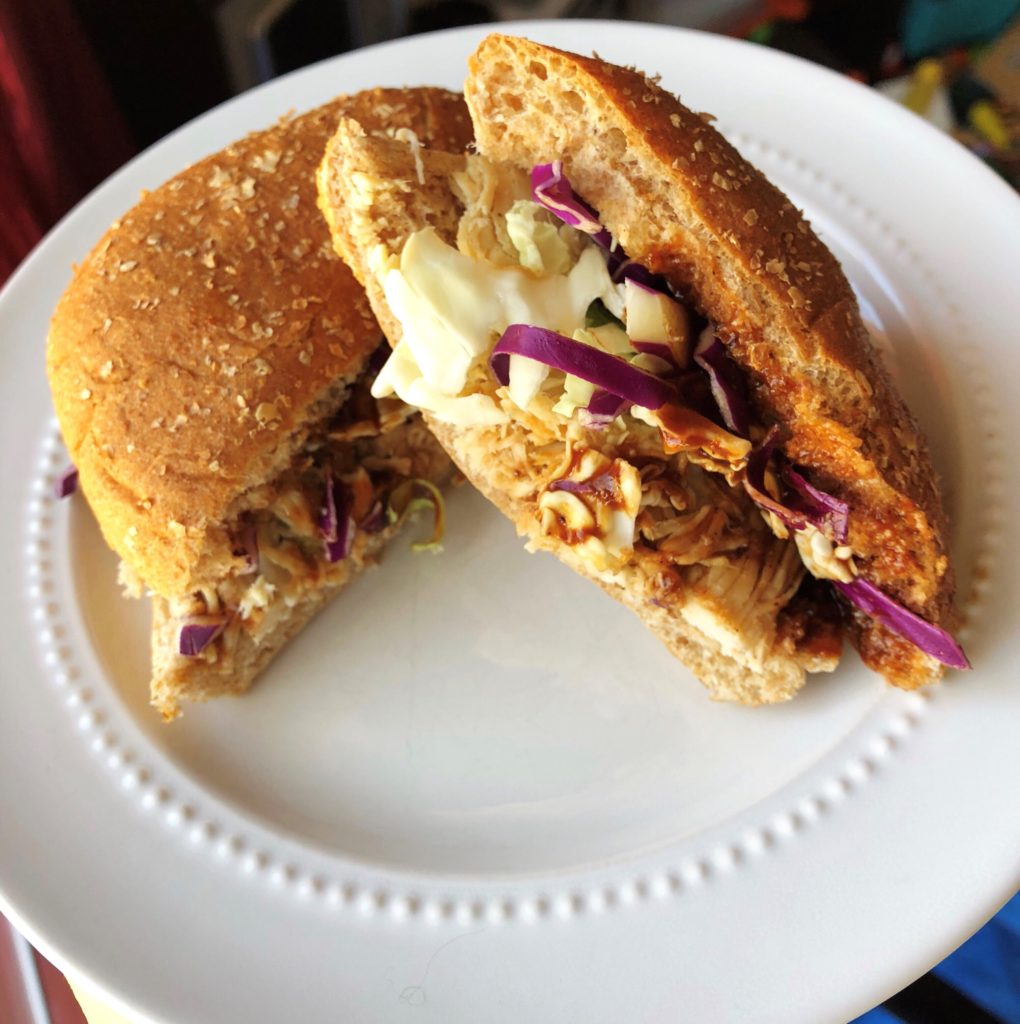 -2 cups cooked chicken
-4 whole wheat hamburger buns
-1/2 cup green cabbage
-1/2 cup red cabbage
-4 tbsp bbq sauce
I simply heated up the chicken in the microwave and assembled the sandwiches! Each sandwich got 1 tbsp of bbq sauce and this was served with oven fries (recipe will be in my eCookbook) and green beans.
Lettuce Wrap Chicken & Black Bean Tacos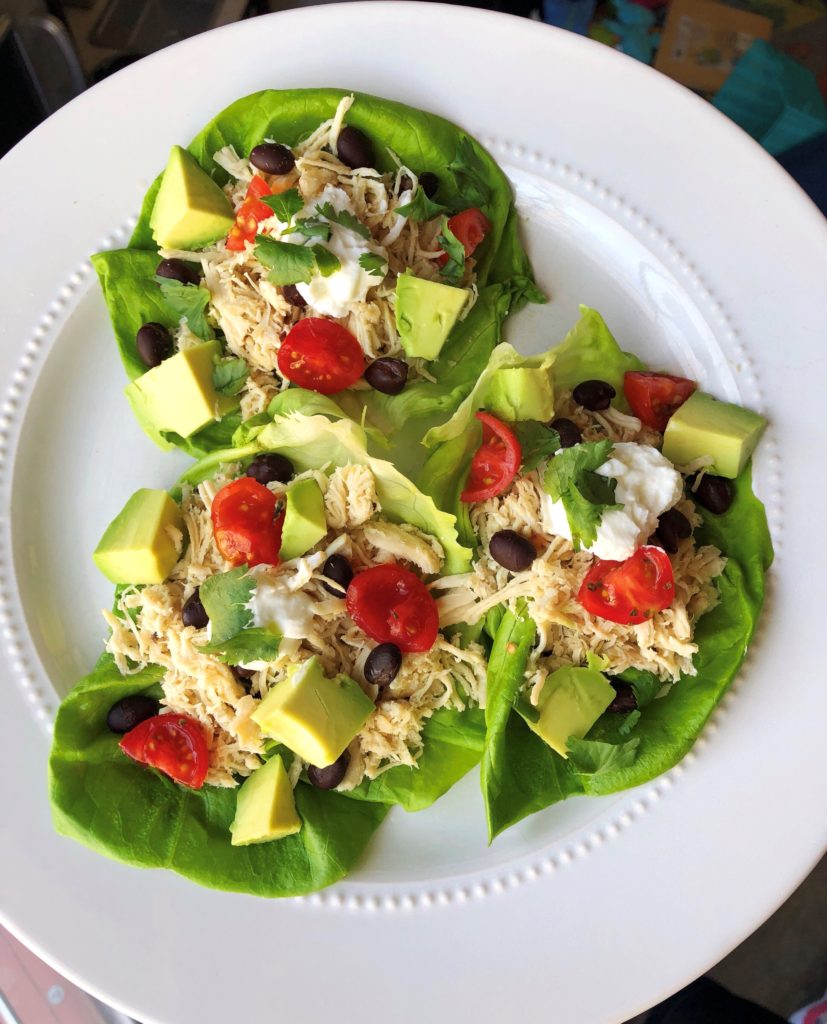 -10 pieces butter lettuce, washed and dried
-2 cups chicken
-1/2 cup black beans, cooked ahead in chicken broth
-1/2 cup cherry tomatoes
-1 avocado
-4 tbsp nonfat plain greek yogurt
-cilantro
Again, I reheated the chicken in the microwave as well as the beans. We had the ingredients set out "buffet style" so you could make your own. I also had other toppings, such as shredded cheese, salsa, jalapenos.
LUNCHES-
Chicken, Veggie, & Goat Cheese Pizza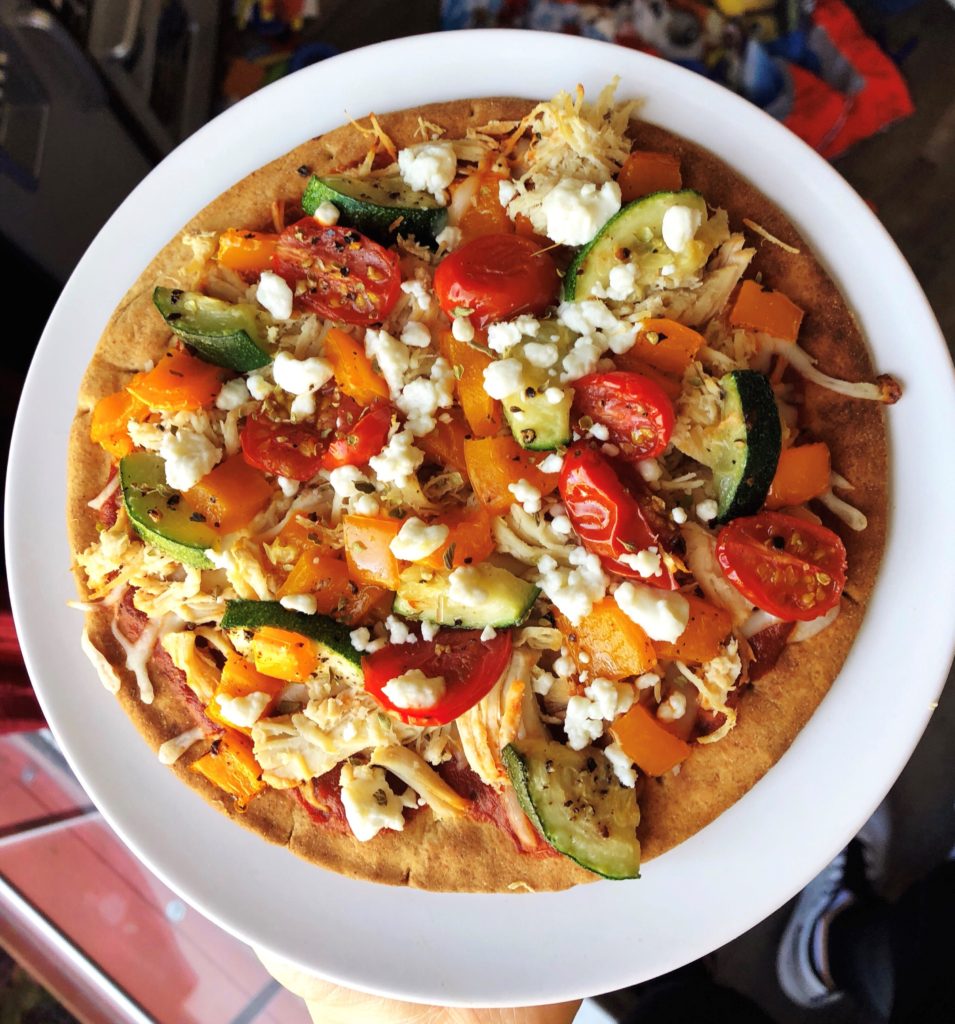 -1 whole wheat greek style pita flatbread (Sam's choice brand)
-1/2 cup cooked chicken
-1/2 zucchini, chopped
-1/4 orange bell pepper, chopped
-1/4 cup cherry tomatoes, halved
-2 tbsp premade pizza sauce (Kroger brand)
-2 tbsp mozzarella cheese
-2 tbsp goat cheese
-dried oregano, dried basil
I preheated the oven to 400 degrees F. I lined a cookie sheet with foil, placed the veggies on one side, sprayed them with avocado oil cooking spray, salt, and pepper and let roast in the oven for 10 minutes. I then placed the wheat pita on the other side and let them cook for 5 more minutes. I removed the pan and assembled the pizza with sauce, mozzarella, chicken, veggies, goat cheese, dried herbs (in that order) and placed back in the oven for another 10 minutes.
Chinese Chicken Salad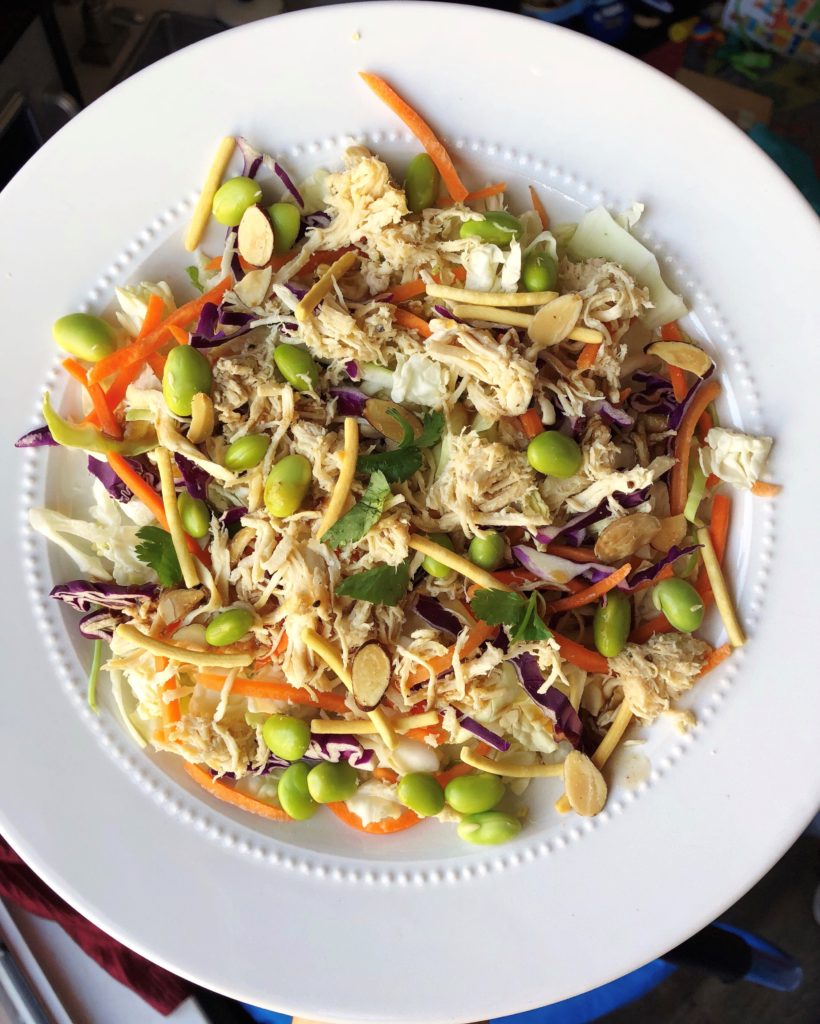 -1 cup Asian style cabbage salad mix (Kroger brand)
-2 tbsp matchstick carrots
-2 tbsp red cabbage
-1/2 cup cooked chicken
-1/4 cup edamame, cooked ahead
-2 tbsp chow mein noodles
-1 tbsp sliced almonds (came with salad mix)
-1 tbsp Newman's Own Asian Sesame dressing
I ate the chicken cold with this salad. All it took was assembling! The chicken could be heated if you prefer it that way and all you really need is the bag of salad - I just happen to have the extra stuff around and needed to use it!
Berry Chicken Salad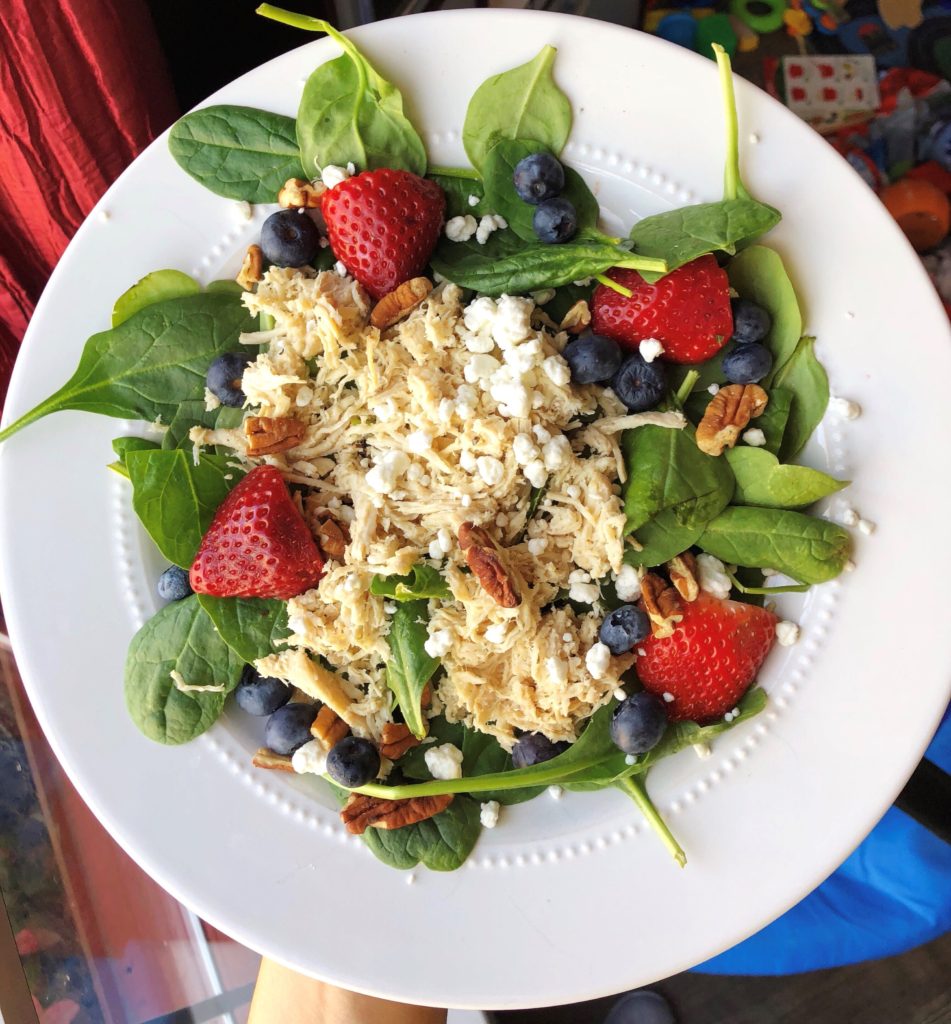 -1 cup spinach
-1/2 cup strawberries, halved
-1/4 cup blueberries
-2 tbsp pecan pieces
-2 tbsp goat cheese
-white balsamic and apple cider vinegar dressing (recipe will be in my eCookbook), made ahead
I simply heated the chicken and assembled again!
Next time you have a busy week, try batch cooking your protein and tell me it isn't a lifesaver! You can thank me later! 🙂
---
---