My Story to Health and Wellness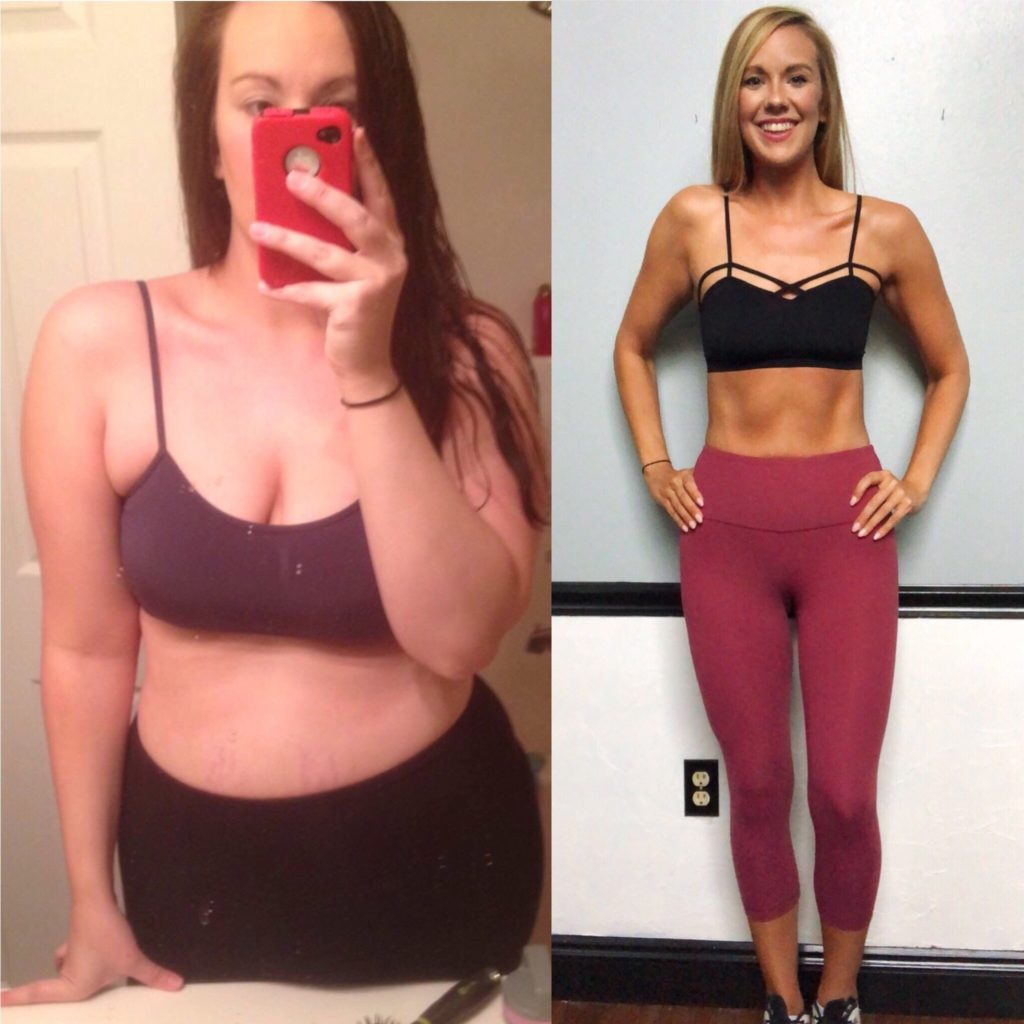 I was never healthy in my adult life. In college, I smoked a pack a day, lived off of energy drinks, and ate only fast food. Exercise wasn't in my vocabulary and I was completely sedentary. When I became pregnant with my first child I had to give up my bad habits, so I traded them for something I was allowed to have – food. I took "eating for two" very literally, remained sedentary, and gained an unnecessary 65 pounds.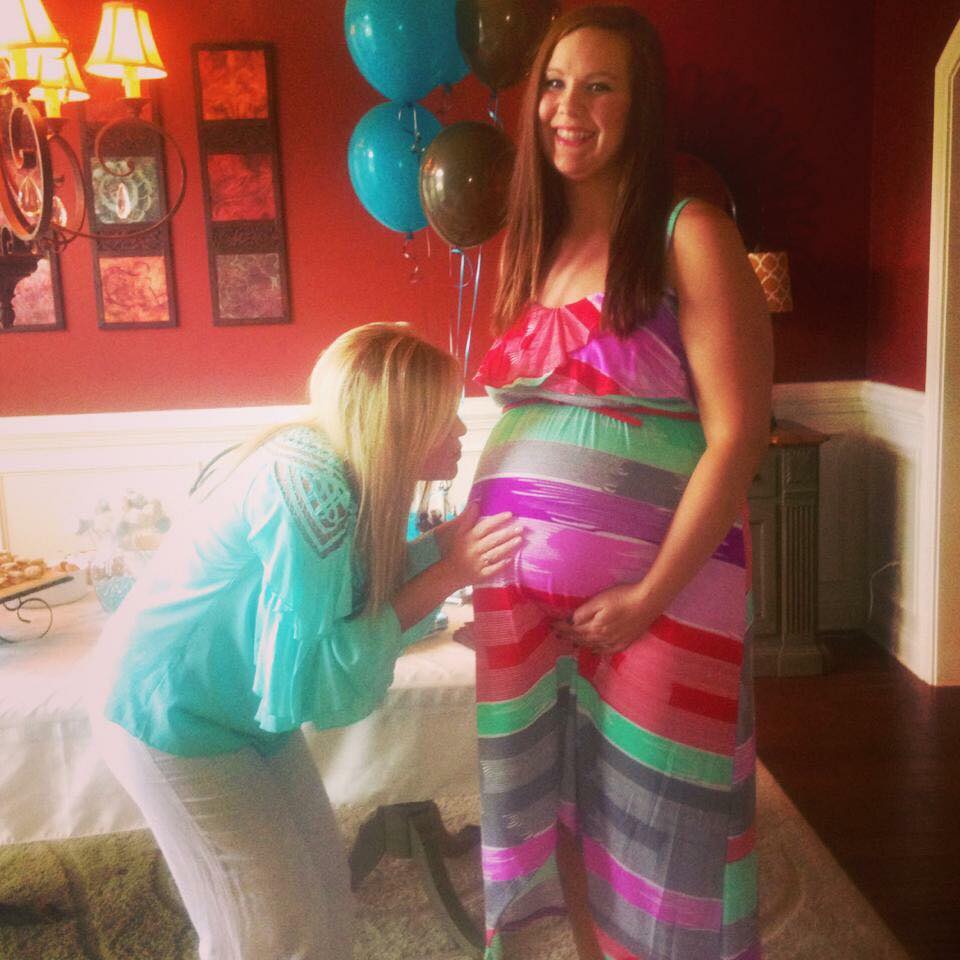 After my son was born, I knew I had to make a change. I mentioned to someone close to me that I was planning on starting exercise and cleaning up my diet. Their words stick with me to this day. "I just want you to know, so you don't get your hopes up, your body will never be the same. You will always carry a little extra weight now that you've had children. That's just the way it is. You will have a 'mom' body now." I know this person's heart and that they had good intentions, but all I felt in that moment was doom. Was I stuck with my new body? Would I always feel tired and have low energy? Was this really my fate? I couldn't believe that. That's when I started digging around on Facebook and found the No Excuse Mom community. A quick scroll through the page and I saw women from all different walks of life, at all different stages in their journey, and they were making it happen. I was flooded with progress pictures, testimonies to being able to run with their children and not feel tired, recipes for cooking healthy meals that the whole family enjoyed, and so much more.
I had hope. 
I started small. I downloaded a food tracking app, used a calculator to determine how many calories I needed to lose 1-2 pounds a week, and started logging my food. I slowly cleaned up my diet, cooking homemade meals with fresh food, and still enjoying treats in moderation. With exercise, I started with putting my baby in the stroller and going for walks. During his nap time, I would do home exercise videos. If he woke up, I let him watch me and I would incorporate him into my workout. Eventually I got a jogging stroller and walking turned to running. I built a home gym in the garage and I started my first weight training program, The New Rules of Lifting for Women, and absolutely fell in love. I ran a few 5Ks, set new PR's lifting weights, and over the course of a year, lost all of my baby weight.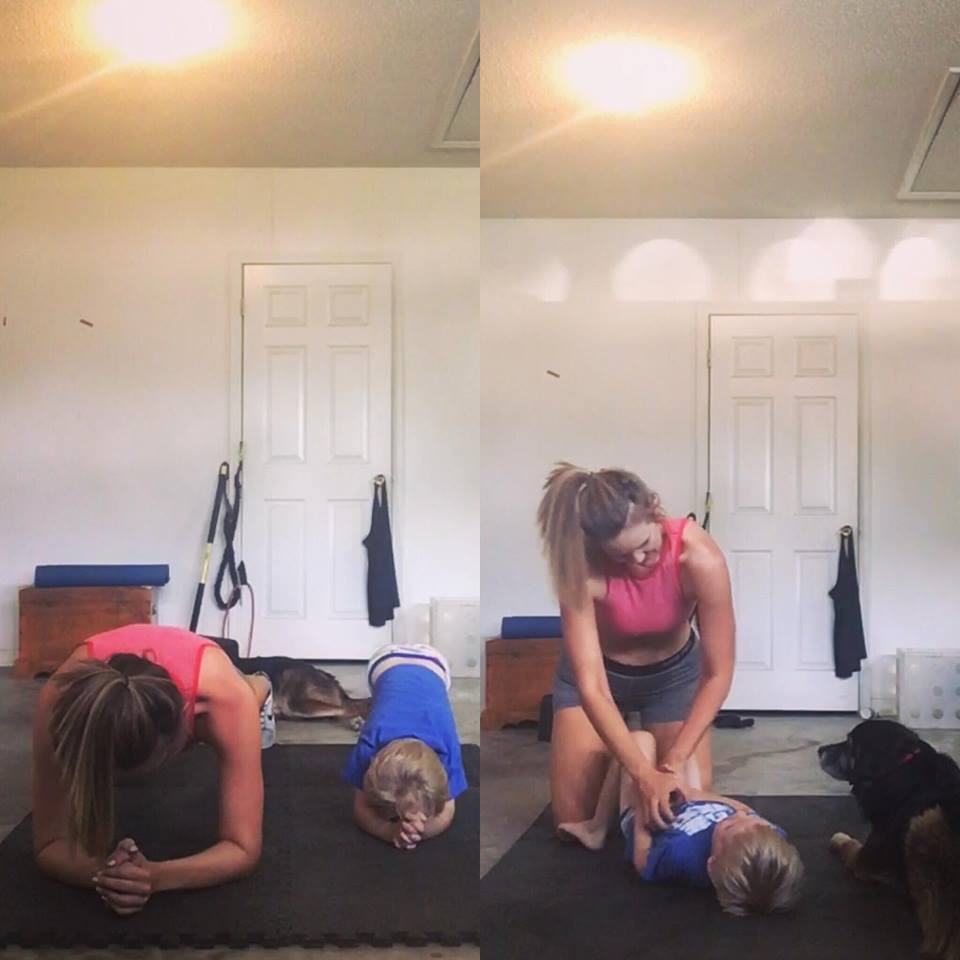 When I found out I was pregnant with my second, I knew I had to do it right this time. I asked my doctor if I could keep lifting weights and he gave me the okay. I continued to eat mostly healthy while enjoying treats in moderation, lifting weights and running through my entire pregnancy, and kept my weight gain to a healthy 30 pounds.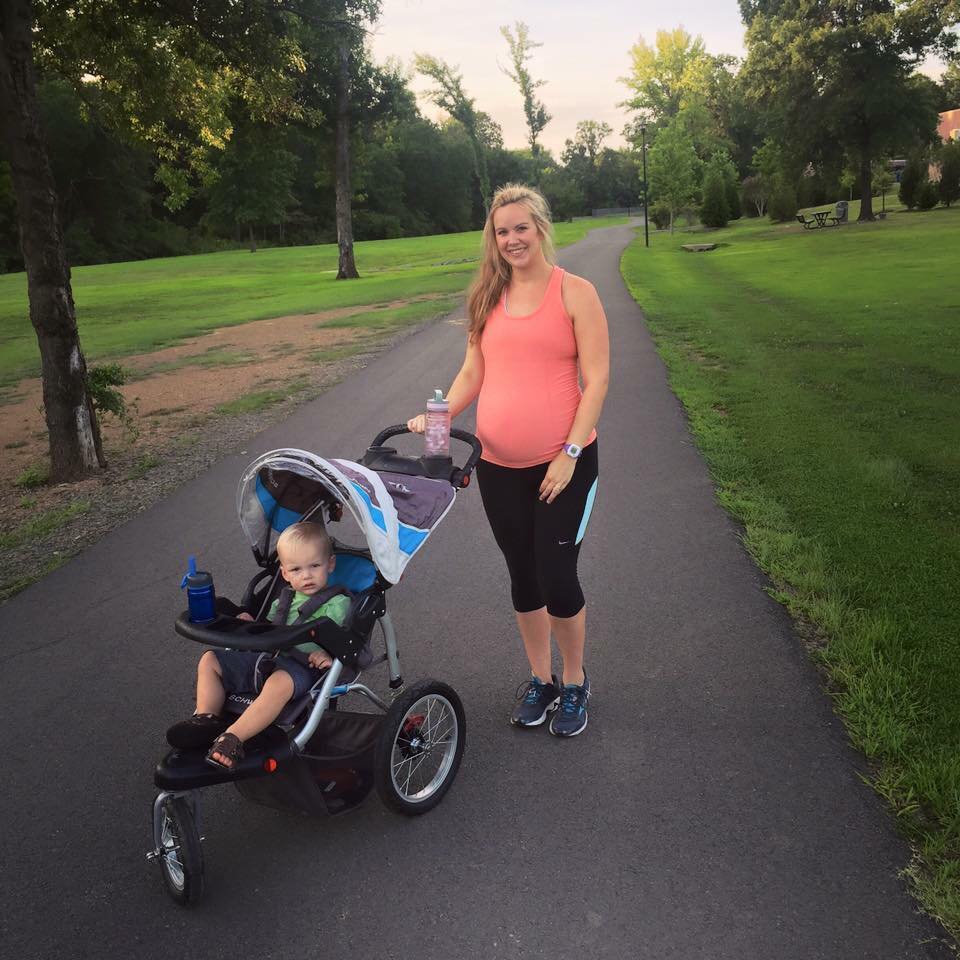 After my second was born, I started the process all over again.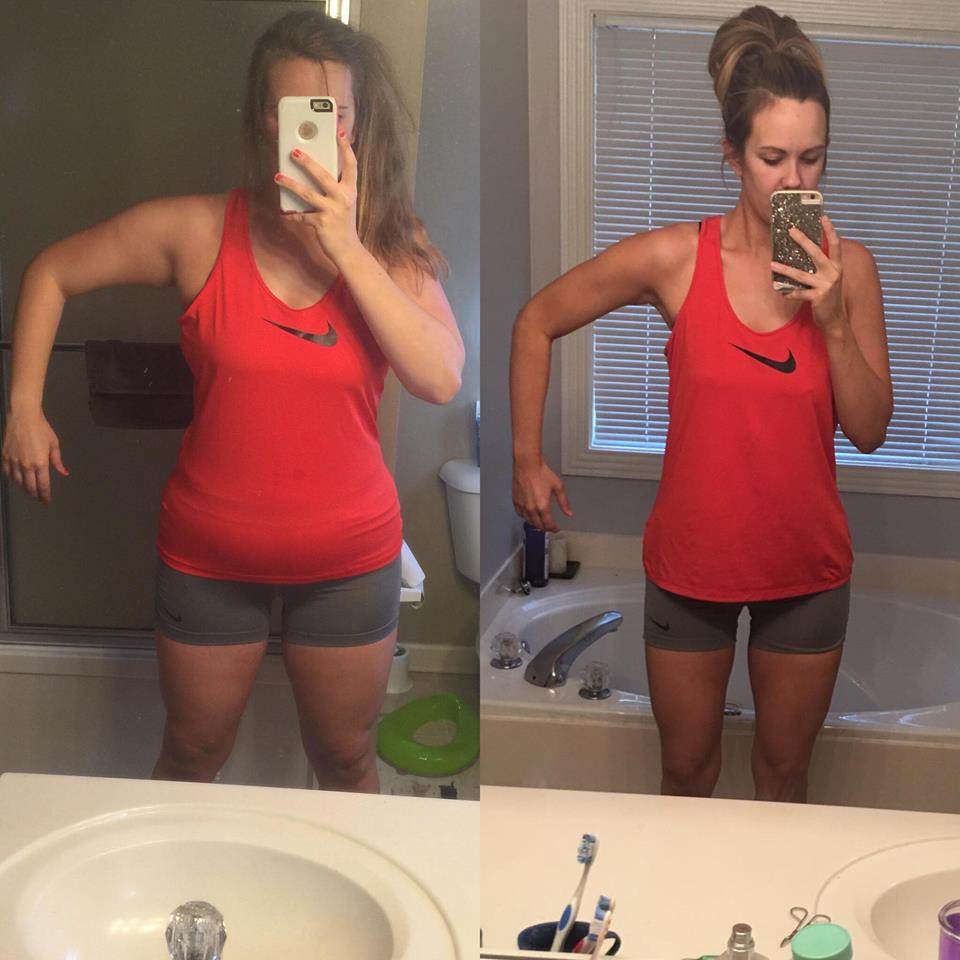 But this time was different, because now I had people coming to me for advice and this changed my life most of all.
I will never forget the first time someone told me I had inspired them to change their life. I was walking to my mailbox and my neighbor who lived a few houses down was jogging past me in the rain. She stopped and said "I just have to tell you, I see you lifting weights in your garage and running with your baby in the stroller and it motivated me to start running last month. I even have a progress picture!" I was completely shocked. I had never even had a conversation with this woman! How could I have inspired her? I was so proud of how hard I had worked and it felt good to see my progress, but nothing in the world compared to the feeling of knowing I had helped someone else change their life. That feeling stuck with me. More women started to come to me for advice and I felt honored to share my knowledge with them. In a world full of quick-fixes and bad information, I hoped to be a light into good, solid, scientific information that focused on habits and behavior change that would lead to lasting results.
I spent countless hours in my journey reading scientific literature regarding nutrition and exercise, listening to podcasts from the best in nutrition and the fitness industry, and studying how to coach women to change their lives for the better. I had built a following on Snapchat (HilaryHogs) by sharing my recipes, tips for meal prepping, fitness information, and tidbits of motivation and pep talks, but I still just saw it as a hobby. I hit a crossroads when I started back to college to finish my Psychology degree and I had decided to become a teacher. It wasn't my dream career, but it made the most sense for me and my family. I spent many nights tossing and turning, wondering if I was doing the right thing. A series of signs showing me I needed to take the plunge and my mom's wise words, "If you do what you truly love, you will never work a day in your life" landed me in my advisor's office and I knew what I had to do. I made the plans to finish my psychology degree while starting my second degree in Dietetics/Nutrition.
Since then, I've started my own small business helping fabulous women on their nutrition, exercise, and daily habits. I give talks to small businesses/organizations about how to utilize meal planning and prepping and use goal setting to spur behavior change. When I graduate I will be applying for my Dietetic Internship to become a Registered Dietitian. I am the Vice Chair for the Student Dietetic Association for the Academy of Nutrition and Dietetics as well as Student Liaison for my school's Student Dietetic Association. I am actively involved in several Academy Dietetic Practice Groups, including Women's Health, Weight Management, and Nutrition Entrepreneurs. I am an official Nutrition Pro for the No Excuse Mom community of over 65,000 women.
There is nothing in the world like the feeling of helping other women discover their potential and showing them that getting healthy can be enjoyable.  At 28, I have started my dream career and business, I have found balance between being a mom and making time for myself, and I have a healthy relationship with food and exercise. I am in the best shape of my life, stronger and healthier than ever, and I wear a smaller jean size than I did in high school.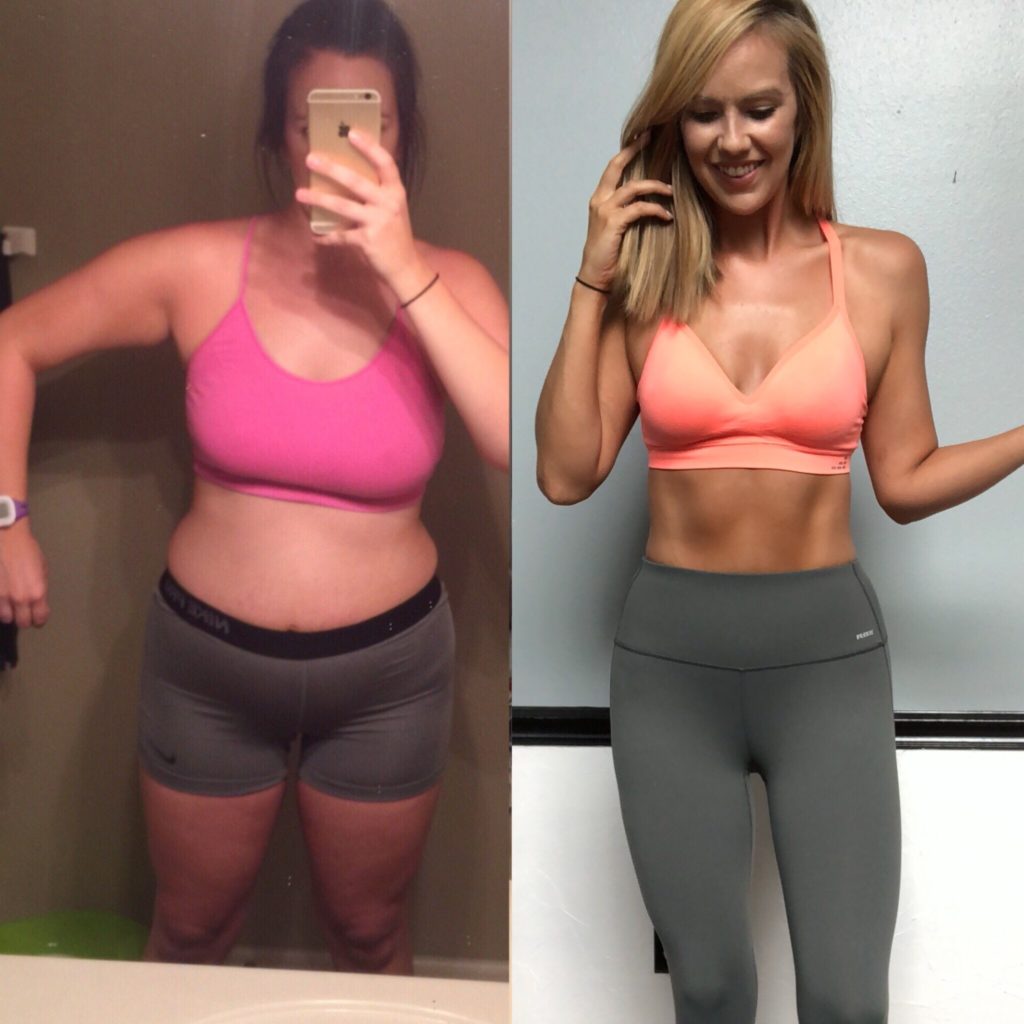 They were right. My body has never been the same since having children. I never will have my old body back. But, I don't want it. I am proud of my new "mom body."