8-WEEK CHALLENGE TO BUILD HEALTHIER HABITS
I am SO excited to FINALLY be rolling out the details of my 8-Weeks to Build Healthier Habits Challenge!!
I have been contemplating for a long time HOW to help the ladies around me who want to make changes in their lives. I knew I wanted to use the format of a challenge, but was overwhelmed at the thought of the many different directions it could go. When I took a step back and really thought about it, I decided to LISTEN to what questions I was being asked about how I have been so successful in my lifestyle change. The same question comes up over and over and over again--
"How did you make a change?"
And my answer is the same every time--
"I built healthier habits."
And that is EXACTLY what this challenge is about. Making changes to your lifestyle can be difficult. Knowing where to start, what to do, how to stay on track can be overwhelming. This challenge walks you through WHAT habit building is and HOW to do it. Each week covers a new topic so that your good habits can build in a progressive and seamless manner that fits YOUR life. It offers guidance, accountability, and support. In 8 weeks, you CAN make the changes you want to make and we are going to do it together.
Here's a little about the challenge--
What the 8-Weeks to Build Healthier Habits Challenge IS:
-Each week a new Habit is covered for challenger to adopt
-Weekly e-mail about that week's Habit with information, tips, activities, and resources
-Priority Planner mailed out to all challengers to fill out and strengthen daily habit-building
-Private support group (on Facebook) for challengers to engage, ask questions, offer/receive support, and participate in weekly activities related to challenge
-Weekly LIVE Q&A where I cover the habit more in depth and give you a chance to ask questions and discuss the habit
-Prizes to reward participating challengers who engage in the support group and practice the weekly Habit
What the 8-Weeks to Build Healthier Habits Challenge is NOT:
-One-on-one Nutrition Coaching (there will be NO 1:1 coaching and ALL communication will be through Facebook group)
-A weight loss challenge (weight loss may be the goal for some participants, but that is not the focus of this challenge!)
-A calorie/macro focus (there will be NO calorie/macro calculations done; all nutrition habits will be based on food groups)
-A fitness challenge (physical activity will be a habit covered but NO fitness plans will be given out)
-Individual consultations (this is a group challenge!)
-No refunds offered (once you're in - you're in!)
Additional Details--
START DATE: Friday, February 1st
END DATE: Friday, March 29th
COST: $80 (paid through PayPal on website)
REGISTRATION OPENS: Monday, January 21st (limited number of participants)
I am SO excited to do this with you guys! I know how important it is to find an approach that fits YOUR needs and a habit-based approach is SO valuable. I can't WAIT to see how much this challenge changes your life! Stay tuned for the announcements leading up to the registration date so you can reserve your spot! 🙂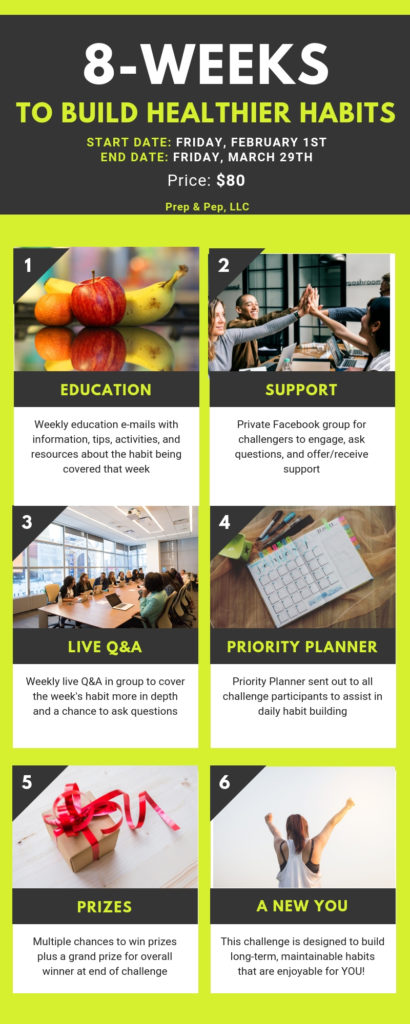 ---
---